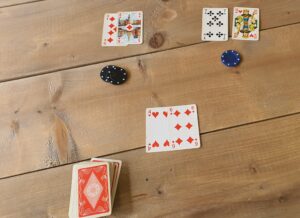 Over het spel: dit bekende kaartspel is één van de vaste spellen in een casino. Het spel zal je leren te concentreren, te onthouden en te anticiperen.
Inhoud van het spel: voor Blackjack: alle plaatjes zijn 10 punten, de aas is 1 of 10.
Doel van het spel: de speler dient de bank te verslaan door met zijn kaarten 21 punten te behalen of zo dicht mogelijk bij de 21 te komen met zijn kaarten.
Spel verloop: de speler speelt tegen de bank. Zowel de speler als de bank krijgen 2 kaarten uitgedeeld. De speler zet in en de bank vraagt of de speler een extra kaart nodig heeft om tot 21 te komen. De speler mag passen zodra hij 16 punten heeft, anders zal hij kaarten bij moeten vragen. De speler kan maximaal 5 kaarten hebben.