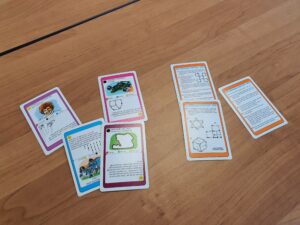 Over het spel: Ravensberger heeft dit educatief spel voor 2 – 6 spelers vanaf 7 jaar uitgebracht. Het spel leert jonge mensen om zich te concentreren, herkennen van vormen, getallen en kleuren en hoe deze gecombineerd kunnen worden. Voor oudere mensen helpt het hun geheugen op orde te houden. Verder leer je om te gaan met winst en verlies.
Inhoud van het spel: het spel bevat 64 symbool kaarten, 12 jokers en 4 turbo jokers. De symboolkaarten bevatten een getal (1-4), een kleur (rood, blauw of groen) en een vorm (cirkel, kruis, driehoek of vierkant). De joker kaarten hebben slechts 1 van die kenmerken.
Doel van het spel: zo snel mogelijk je kaarten wegspelen. Als een speler lukt om zijn hand als eerste weg te spelen, dan dienen het aantal kaarten die zijn tegenstander nog heeft als punten. De speler wint als het behaalde punten aantal bereikt is die van te voren bepaald wordt.
Spelverloop: De spelers krijgen elk 7 kaarten gedeeld. De overige kaarten worden als trekstapel in het midden gelegd. aan beide zijden van de trekstapel wordt een kaart open gelegd. Om een kaart af te leggen moet er 2 kenmerken overeenkomen met de bovenste kaart op de aflegstapel. Een joker kan afgelegd worden als er 1 kenmerk overeenkomt met de bovenste kaart van de aflegstapel. Een turbojoker kan altijd afgelegd worden. Wie geen kaart kan afleggen dient een kaart van de trekstapel te pakken.