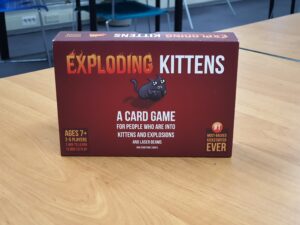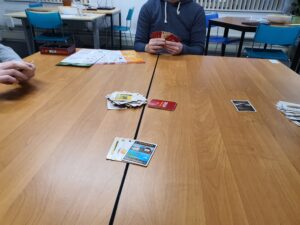 Over het spel: Original Edition heeft dit  kaartspel voor 2 – 5 of 2 – 9 (met gebruik van 2 dekken) spelers vanaf 7 jaar uitgegeven. Dit spel leert je te concentreren, te onthouden en met winst en verlies om te gaan.
Inhoud van het spel: het spel bevat 4 exploding kittens, 6 defuse -kaarten, 5 nope kaarten, 4 attack kaarten, 4 skip-kaarten, 4 favor kaarten, 4 shuffle kaarten, 5 see the future kaarten, 5 x 4 kattenkaarten, spelregels. De spelregels vind je hier: Handleiding_Exploding_Kittens_Nederlandstalig
Doel van het spel: de speler wint als hij als laatste overblijft.
Spelverloop: spelopzet en verloop kan je vinden in de spelregels.