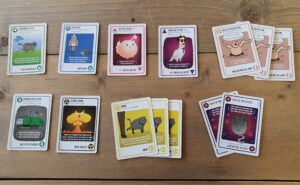 Over het spel: Original heeft deze 2e uitbreiding op het spel Exploding Kittens voor 2 – 5 of 2 -9 (met 2 dekken) spelers vanaf 7 jaar uitgegeven. Het spel leert je te concentreren, te luisteren, je geheugen te trainen en om te gaan met winnen en verliezen.
Inhoud van het spel: de volgende kaarten worden toegevoegd aan het spel Exploding Kittens: 1 Exploding Kitten kaart, 1 Super Skip kaart, 1 See the Future Kaart, 1 Alter the Future Kaart, 3 Swap Top and Bottom kaarten, 1 Garbage Collection kaart, 1 Catomic Bomb kaart, 3 Mark kaarten, 2 Curse of the Cat Butt kaarten.
Doel van het spel: de speler die als laatste in het spel overblijft wint.
Spelverloop. zie ook de spelregels: Streaking Kittens spelregels